Horses Sold
Below is a list of horses KM Eventing has sold in the last year. Please contact Kurt at 540-454-6054 or
email
him for a list of his current horses for sale.
Ali Kat

Congratulations to Karen Davenport & Family, the new owners of Ali Kat, a 2005 warmblood Training level event mare. Ali has also fox hunted for 4 seasons making her a very well rounded mount. Good luck in this years upcoming events and hunt season.

---
Kinard Battina

Congratulations to the new owners of Kinard Battina, a 2008 16.1h imported Irish Sport Horse, who has successfully competed at training level.

---
Nike

Congratulations to the new owner of Nike, a 15 year young 16.1h Preliminary event gelding. Best of luck in the upcoming competition season!

---
Finn
Congratulations to the new owner of Finn, a 7 year old 16.2h Percheron/Morgan X. Good luck with your new fox hunting mount!
---
Mainstay
Congratulations to the new owner of Mainstay, aka Casey, a 16.2h bay TB training level eventer. Good luck with your new horse and best wishes for a successful fall eventing season!
---
Tazmans Devil
Congratulations to the new owner of Tazmans Devil, a 16.2h grey New Zealand CCI** eventer. Good luck with your new eventing partner.
---
Fridays Friend
Congratulations to the new owner of Fridays Friend, a 16h 8 year old bay Irish Sport horse gelding, and Training level event horse. Good luck with your new Irish partner!
---
Tres Cool
Congratulations to the new owner of Tres Cool, a 12 year old Bulgarian Preliminary event horse. Good luck in the upcoming competition season!
---
Ballyadare
Congratulations to the new owner of Ballyadare, a 16.1h 6 year old gray Irish Sport horse mare, by Brandenburgs Windstar. Good luck in the fall eventing season!
---
Woody
Congratulations to Sasha Scott and her trainer Polly Hall . Best of luck eventing in the Young Riders divisions in Chicago,Ill.
UPDATE :
Congratulations to Shasha on finishing 3rd in the Preliminary Division at Richland Park with Woodwork and
on a very successful 2nd place finish at the Hunter Oaks horse trails in Illinois. It's looking like this fabulous pair is going to have a very successful fall eventing season.
Woodwork
is a 16.2h 15 year old New Zealand thoroughbred. Woody has evented through Advanced level.
2011 Morven Park Advanced 3rd
2011 Pony Club Championships Finals Preliminary 2nd
Virginia Horse Trials 2011 Open Training4th
Morven Park 2010 Advanced 4th
Morven Park 2008 Advanced 3rd
Radnor CCI 2 star 3rd
Woody XC
---
Quick Proposal

Congratulations to Sonia, on the purchase of Quick Proposal, a 9 year old Irish Sport horse by
Lux Z
. Good luck in the upcoming competition season!
---
Bally WhatNot

Congratulations to the Case family of Potomac, MD on the purchase of Bally WhatNot, a 15 year old, 17 h, bay Irish Sport horse gelding. Bally WhatNot has successfully competed to the Intermediate level. Good luck with Bally WhatNot!


---
Danio
UPDATE :
Danio has successfully completed 2 events at the CIC** level this year jumpng clean XC at each event. Danio also succesfully completed the Fair Hill CCI** this fall, jumping double clean. What a fabulous career beginning for this brilliant young horse.
Congratulations to Hannah Sue Burnett on Team Gold and Individual silver at the 2011 Pan American Games in Mexico. Danio and Hannah won their first outing at Prelim and successfully moved up to Intermediate this year.Danio, an 8 year old British bred Dutch Warmblood gelding. Danio competed to 1.25m in England and was 3rd in the 6 year old jumper class in Wales. Scopy jumper, huge mover, advanced level potential. Imported to the US in the last year. Hannah Sue and Danio were part of the Pro Derby cross event in Wellington,FL this January.Watch it live on usefnetwork.org. Watch for them in Ocala February going Intermediate. Danio was 8th in the 2* at The Fork Horse CIC on a double clear!
Seneca Valley HT Open Preliminary 1st
CTCTA Open Prelim 1st
Maryland Horse Trials Preliminary 2nd
Morven Park Open Training 1st
Danni jumping
Danni Show Jump Seneca
---
King Arthur Pendragon

_Congratulations to Erika and Woody on the purchase of King Arthur Pendragon, aka "Pen", a 16.1h flashy dark bay TB/draft X gelding. Pen has competed 1st Level dressage at recognized shows with good scores. Pen is a good mover and will make a nice foxhunter, low level event horse, dressage or all around family horse. Good luck with your new equine partner!

---
Wake Robin
Congratulations to Anna Safigan of California, MD on the purchase of Wake Robin

Robin is a 16.2h year old TB dark bay TB mare and very sound. UTD on shots and coggins. Competed at her first show at Summerplace hunter show and placed 5th and 7th in her 2 classes. Has been on the trailer and out on field trips every few days.She is brave and very rateable.She will make a great horse for an aspiring amateur. Has xc schooled water, ditches, banks with no issues. She competed at Foxchase jumper show in the 2'6 jumpers and was super brave.
Wake Robin
---
Lascaux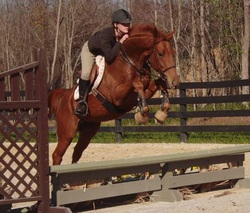 _Congratulations to Joanne, on the purchase of Lascaux a 5 year old 16.0h chestnut gelding, a very nice prospect for the eventing or the jumper world. Lascaux loves schooling XC, drops into water, over ditches, logs- you name it, no problem for this guy.

---
Tivoli
Congratulations to Michelle and Nicole Sikora of Washington,Pa.
Tivoli
, 10 year old thoroughbred mare 16h has hunted several seasons with Orange County
and Piedmont Hunts first field.Great hilltopper horse also.Has shown up to level
2 jumpers at Culpeper,Lexington, Va and Loudoun Horse shows.Has done combined
tests and xc schooled. Did orange county team chase 2011 genuine hunters.Very
easy keeper,easy to clip,trailer etc.Pretty mover.Big stride and automatic
changes. Finished 4th at her first event at Morven Park HT at Novice on a double clear.
Tivoli Morven Horse Trials
---
Mighty
Congratulations to Barbara Miller on the purchase of Mighty a 7 yr old 16.1h thoroughbred gelding. Mighty has many placings at "A" rated shows in level 1 and 2 Jumpers. Good luck on his new eventing career.

---
Grey Boy

Congratulation to Sheila Wiese on the purchase of Grey boy, an 11 year old 17.1h thoroughbred gelding. Grey is a training level packer who has placed at almost every event entered. Great mover. Huge stride and very brave to the jumps. Has hunted several seasons with Orange county and Warrenton Hunt clubs. Qualified for north American field hunter championships in 2010. Grey has successfully moved up to Preliminary in the fall of 2011l. Very quiet and sweet natured. Finished 2011 4th overall Training level area 2.
1st Open Preliminary Maryland Horse Trials October 2011
1st Training Loudoun HT April 2011
2nd Training CDCTA April 2011
Grey Boy SJ
Grey Boy XC
Grey Boy Dressage MDHT
Bear

Congratulations to Vicki Van Mater on the purchase of Bear, a 10 year thoroughbred cross, Preliminary event horse.Bear was the 2011 Orange County Hunt Reserve Champion foxhunter with Kurt Martin riding this fall.Bear is spending the winter in Wellington,Fl.
---
Captain Bertie
Congratulations to Mary Claire CB on the purchase of a Captain Bertie, a 10 year old Irish Thoroughbred gedling. Good luck with your new equine partner.Captain Birdie had done several 1* events in England.He won at Prelim with Kurt Martin at Virginia Horse Trials on a 26.Mary Claire was recently 5th in a Training Rider Division in Texas.
---
Victory Shetan
Congratulations to Chase Shipka on the purchase of Victory Shetan, an 8 year old Dutch warmblood Jumper/Preliminary eventer gelding. Chase was 1st and 2nd at her first two events Novice.Trainer Jan Bynny won at Training level with him this year and had several other top placings training level. Victory Shetan and Jan have won several Prelim events this winter.With owner Chase Shipka he has won several Training levels.He is having a great start to 2012.Chase just finished on a double clear in an Open Prelim division at The Fork Horse Trials.
Victory Shetan Jumping
---
Sir Jearly
Congratulation to Jules Anderson on the purchase of Sir Jearly, a 10 year old 16.2h grey Dutch warmblood gelding. Wins at the 1 star level, OI eventer, and top level dressage horse.
---
Carters Bridge
Congratulations to James Daniel Conner on the purchase of Caters Bridge, a 10 year old 17.2h bay Dutch warmblood/thoroughbred gelding. Competed through the 2 star level. James Daniel successfully completed the 2* at Plantation,the International CCI 2* in Bromont,Canada and Fair Hill 2* in 2011.
Carters Bridge Jumping
Carters Bridge Intermediate XC The Fork
---
Cosmic Girl
Congratulations to Ashlyn Dorsey on the purchase of Cosmic Girl, a 12 year old German bred Intermediate level mare.Ashlyn represented her area at the North American Young Riders Championships in Lexington,Ky this year and had wins at Preliminary.Kurt Martin competed her through Intermediate prior to her sale.
---
Gray Street
Congratulations to Sarah Blum on the purchase of Gray Street , a7 year old Irish Thoroughbred. Good luck with your new equine partner.Sarah and Grey Street have been competing at Novice in Mass.Watch for them in Aiken this winter! Sarah and Grey Street were 5th at Sporting Days in March 2012 in a Novice Rider divison!
---
Cast Away/Carlos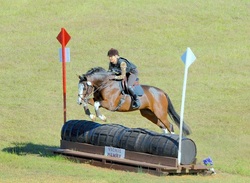 Congratulations to the new owners of Cast Away (William) Elisabeth Fouche, a 6 year old Eventer/Jumper Holsteiner/Thoroughbred gelding.Upper level event rider Tiffani Loudoun-Meetze has been competing him as "Carlos" this year and doing great.Elisabeth just won her Open Beginner Novice division at Chattahoochee Hills Horse Trials!!
---
Gunner/Topgun 5 year old English Thoroughbred gelding starting his eventing career. Contratulations to Nicole Carolan and trainer Matthew Flynn who rode him to wins at Novice and moved up to Training level this fall.Now showing under the name "Topgun" he also finished 5th at the 5 year old Young Event Horse Championships this year.Doug Payne has taken over the ride for 2012 and was 6th at Sporting Days Open Training and 2nd at The Fork HT in April Open Training!

BEVERLEYS GAMBLE Congratulations to Bill and Darrin Mollet on the purchase of Gambler. A 6 yr bay thbd gelding with a great jump and wonderful mind.Hunting like a perfect husbands horse with Bill at Orange County Hunt and successfully completed his first novice in the fall with Darrin.Watch for Gambler and Darrin In Ocala this winter at Novice.They placed 5th at Novice at Ocala Horse Properties HT.They jumped a double clear at Morven HT in March amd at Plantation HT.



MILL HOLLOW SURPRISE


Congratulations to Kathleen Sullivan and husband Andy on their purchase of "Ollie".He is enjoying hunting in Lexington,Ky.Ollie had an impressive show record with 5 wins at Novice and Training level with Kurt martin.
---